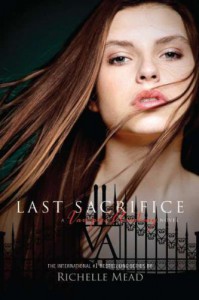 SPOILER ALERT: It's possible to change the dead, tasha you bitchhhhh.
I READ THIS BOOK AGES AGO.
I CAN'T BELIEVE WHAT HAPPENED IN THE BOOK OMG.
So in the last book, everything changes. Rose breaks out of prison to not be killed basically. Dimitri goes with her. He aint dead no more. They kinda rekindle their love which I personally don't like. I liked her better with Adrian because he sounded so cool. I don't like the idea of a teacher student romantic relationship. whereas adrian was cool.
Tasha Ozera didn't like the fact that Dimitri still loved Rose and was jealous so she killed the queen and pinned it on Rose because everyone knew that Rose didn't like the queen at all. To be honest though, I wouldn't like the queen either...
Christian and Lisa are so cute and they get back together.
They prove that Rose didn't kill the queen which is badass.
Lisa proves everyone wrong and becomes the queen thanks to a secret relative she didn't know she had also known as jailbait... aka Jill!
The book made me feel a lot of emotions at once that I didn't know I had... So good!
5 million starts out of 5 :)
-Sarah.